Oncologists 2022
ABOUT CONFERENCE
Welcome…!!!
Euroscicon Ltd welcomes you for the 18th World congress on Oncology and Cancer Science scheduled on May 09-10, 2022. Oncologists 2022 invites all the participants from all over the world which includes prompt Keynote talks, Oral talks, Poster presentations, Sponsor Ships and Exhibitions. The aim of this conference is "Amalgamation of innovations in cancer treatment & Challenges during COVID-19". Oncologists-2022 is comprised of many interactive scientific sessions as well as various diagnostic and therapeutic advancements in cancer. It is an initiative to unite the diverse research and business communities working in this field under a one roof to explore every single aspect of oncology.
Oncologists - 2022 Conference is inspirational and energizing opportunity to connect with the greater scientific community, where you get to know about new strategies to approach your research. To contemplate the bigger picture and establish collaborations. A good conference has the capacity to bring a scientist within you; Oncology conferences are very helpful for learning about new areas and publications of Oncology and Cancer.
Oncology Conferences 1000+ CME Global events every year across the globe with support from 1000+ more scientific societies and Publishes 500 Open access journals which contains over 50000 eminent personalities, reputed scientists as editorial board members.
Who Should Attend??
Oncologists-2022 is a novel discussion to unite overall recognized scholastic Researchers, Public wellbeing experts, Scientists, Doctors, Academic researchers, Industry specialists, Scholars in the field of Oncology, Hematology, to exchange about the state of the Research and Development.
Target Audience:
Doctors
Oncologists
Directors
Cancer Surgeons
Physicians
Oncology Nurses & Nurse Practitioners
Oncology Associations and Societies
Business Professionals
Medical colleges and universities
Professors
Researchers & Scientists
Anesthesiologists
Medicine Experts
Manufacturing Nano Medical Devices Companies
Students
Why Should Attend??
The arranging group assembles eminent speakers covering the most recent advances in the field, fusing differing qualities in each sense. We likewise incorporate talks on most recent methodologies for concentrating these biological inquiries.
Exclusive B2B meetings, Interactive Sessions, Panel Discussions, Keynote Sessions, Poster Presentations, Oral Presentations, Workshops, Exhibitions etc., are the main highlights of this event.
Benefits :
International Speaker Certification
Hard copy of Conference Souvenir, ID card and certificate will be sent to your address
Online publication of the abstract in the conference website
Abstract publication in the conference
Proceeding with the unique DOI given
Exclusive Speaker Pages in relation in conference website for all the speakers
Publication discount benefits as a conference attendee
Group Registration discounts
Outstanding Young Researcher Award
Nominations for Best Poster Award
International Networking
Scientific Association, Collaboration and more..!
Scope & Importance:
Oncologists-2022 and Oncology webinars will seam world-class educators, scientists and Oncologists to converse diverse procedures for Cancer treatment, Chemotherapy, and Radiology.
Oncologists-2022 will be the best platform for all the oncologists, hematologists, research scholars, students who are working in this field to exchange their knowledge related to Oncology Research. This international event is an effort to understand the underlying biological procedures which are amended to increase effectiveness, precision, survivability and quality of life.
Overview of Oncologists-2022:
Cancer is an abnormal growth of cells that tend to proliferate in an uncontrolled way, and in some cases, to metastasize / spread. Cancer is not a single or one disease but it is a group of different and distinctive diseases. In all types of cancer, some of the body's cells begin to divide without stopping and spread into surrounding tissues, genetically which are called Oncogenes. Cancer can start almost anywhere in the human body, which is made up of trillions of cells. As cancer is spreading in the world very rapidly so many market studies and researches are going on and still so many are under study.
The Innovative idea of Cancer has started great much research to be embraced by the labs around the world. With such an extraordinary number of researchers and scientists taking a shot at Caner research, to date, no significant solution for this is recorded. Oncologists-2022 will manage Cancer Prevention, Diagnosis, and Treatment of illnesses of the Organ-related Cancers and its inventive strategies. Oncologists-2022 will also supply the two days of discussions on methods and systems identified with administration and satisfactory exchange of Cancer and in addition to check out the new thoughts and ideas on worldwide scale and the themes include Field Of Oncology, Oncologic Subspecialties, Cancer Cell Biology & Genetics, Tumor Biology, Cancer Metastasis, Stem Cell Therapy in Oncology, Cancer Molecular Diagnostics, The COVID-19 Challenge: Oncology, Medical Oncology, Neuro-Oncology, Radiation Oncology, Surgical Oncology, Hemato-Oncology, Gynaec- Oncology, Clinical Research On Oncology, Precision Cancer Medicine & Oncology, Cancer Biopsy, Immuno-Oncology, Pharmaceutical Oncology, Neonatal & Pediatric Oncology, Oncolytic Virus, Oncogenomics, Oncology Nursing & Care, Cancer Chemotherapy, Nanotechnology In Oncology Treatment, Cancer Awareness, Life-Style & Nutrition, Cancer: Complementary & Alternative Treatments, Advances in Cancer Research And Treatment, Current Research in Cancer.
SESSIONS AND TRACKS
Oncology is the study of cancer. An oncologist is a doctor who treats cancer and provides medical care for a person diagnosed with cancer.
The field of oncology has three major areas:
Track-2: Oncologic Subspecialties
There are several sub-specialties in the field of Oncology. The above mentioned specialties deal with the treatment of cancer through Chemotherapy or Immunotherapy, Biopsies and Radiology respectively.
Track-3: Cancer Cell Biology & Genetics
Cell division could be a traditional method utilized by the body for growth and repair. Healthy cells stop dividing once there's not a requirement for additional female offspring cells; however cancer cells still turn out copies. Cancer cells square measure cells that divide unrelentingly, forming solid tumors or flooding the blood with abnormal cells. Cancer biology deals with these changes and also the molecular networks that management cell proliferation, differentiation and death. The study of varied styles of cancer is termed as medical specialty.
Regenerative cell biology
Host-pathogen interactions
Sarcoma
Cancer is a group of diseases involving abnormal cell growth with the potential to invade or spread to other parts of the body. These contrast with benign tumors, which do not spread. Possible signs and symptoms include a lump, abnormal bleeding, prolonged cough, unexplained weight loss, and a change in bowel movements. While these symptoms may indicate cancer, they can also have other causes. Over 100 types of cancers affect humans.
The spread of cancer from one part of the body to another part or to lymph nodes, which are not directly connected to each other is called cancer metastasis. Cancer is considered as a deadly disease mainly because of its ability to spread in the body. This metastasis takes place through the blood stream or the lymph system. The most common metastasis parts of the body are the lungs, bones, liver and brain. The metastatic cancer cells does not resemble the feature of the cells where it was found but it resembles the primary cancer cells i.e. it was considered as a next stage of the primary cancer cells. All metastatic cancers are considered as advanced cancers. The cancer survival and treatment is influenced by whether the cancer cells are localized or spreads to other parts. When the cancer starts to spread it is very difficult to control. Even if the treatment is continued, it will be only palliative care. The pain killing will be mostly by Anti-cancer drugs such as chemotherapy. Cancer Management is a multidisciplinary approach that deals with the various type of cancer complications and its preventive measures. Cancer Conferences is an important key for both educational and clinical guidance for managing cancer patients.
Track-6: Stem Cell Therapy In Oncology
A stem cell is a cell with the unique ability to develop into specialized cell types in the body. In the future they may be used to replace cells and tissues that have been damaged or lost due to disease.
In stem cell transplants, stem cells replace cells damaged by chemotherapy or disease or serve as a way for the donor's immune system to fight some types of cancer and blood-related diseases, such as leukemia, lymphoma, neuroblastoma and multiple myeloma. These transplants use adult stem cells or umbilical cord blood. Stem cells are not only widely used for regenerative medicine, but are also considered as a useful tool for cancer treatment. For a long time, stem cells have been utilized to renew the immune system for radiation or chemo- therapy treated patients.
Track-7: Cancer Molecular Diagnostics
Molecular diagnostics can be used to determine whether a person is at risk for a certain type of cancer. When used this way, the tests may also be referred to as molecular profiling or molecular risk assessment. These tests help a person determine how likely he or she is to develop cancer.
Track-8: The COVID-19 Challenge: Oncology
The recent Chinese experience suggests that cancer patients are at higher risk of infection to SARS-CoV-2 compared to the general population, which could be related to the closer medical follow-up organized in such fragile patients. More concerning, the risk of severe respiratory complications requiring intensive care unit was much higher in cancer patients compared to non-cancer patients. A covariate significantly associated with this risk was a history of chemotherapy or surgery in the previous months, a feature that involves the highest number of cancer patients. Finally, the cancer patients deteriorated more rapidly than those without cancer.
Medical oncologists are doctors who treat patients with a balance of radiotherapy and chemotherapy. They are involved in the management of all types of cancer and use a range of other treatments to treat cancers, without using surgery.
They are different than medical oncologists, who use non-radiological treatments for cancer. Clinical oncologists determine which treatment to use by considering a range of factors such as the type of tumor, tumor site, the stage of the disease and the patient's general health. They assess the relative merits of different treatments before presenting these to the patient.
In biology, cell signaling is part of any communication process that governs basic activities of cells and coordinates multiple-cell actions. The ability of cells to perceive and correctly respond to their microenvironment is the basis of development, tissue repair, and immunity, as well as normal tissue homeostasis. Errors in signaling interactions and cellular information processing may cause diseases such as cancer, autoimmunity, and diabetes. By understanding cell signaling, clinicians may treat diseases more effectively and, theoretically, researchers may develop artificial tissues.
All cells receive and respond to signals from their surroundings. This is accomplished by a variety of signal molecules that are secreted or expressed on the surface of one cell and bind to a receptor expressed by the other cells, thereby integrating and coordinating the function of the many individual cells that make up organisms. Each cell is programmed to respond to specific extracellular signal molecules. Extracellular signaling usually entails the following steps:
Radiology is the medical discipline that uses medical imaging to diagnose and treat diseases within the bodies of both humans and animals. A variety of imaging techniques such as X-ray radiography, ultrasound, computed tomography (CT), nuclear medicine including positron emission tomography (PET), and magnetic resonance imaging (MRI) are used to diagnose or treat diseases. Interventional radiology is the performance of usually minimally invasive medical procedures with the guidance of imaging technologies such as those mentioned above.
Surgical oncology is the branch of surgery applied to oncology; it focuses on the surgical management of tumors, especially cancerous tumors.
As one of several modalities in the management of cancer, the specialty of surgical oncology, before modern medicine the only cancer treatment with a chance of success, has evolved in steps similar to medical oncology (pharmacotherapy for cancer), which grew out of hematology, and radiation oncology, which grew out of radiology.
A hematologist-oncologist is a physician, specializes in diagnosing, treatment and prevention of blood diseases and cancers such as iron-deficiency anemia, hemophilia, sickle-cell disease, leukemia and lymphoma. This physician is trained in hematology — the study of blood — and oncology — the study of cancer.
Contaminations in the female genitalia and the extra sex organs are regularly known as Gynecologic Infectious Diseases. A portion of the irresistible infections is Vulvovaginitis, Cervicitis, Pelvic Inflammatory Diseases, and Sexually Transmitted Diseases. Gynecologic Oncology is a specific field that arrangements with growths relating to the female genitalia and conceptive framework.
Track-15: Clinical Research On Oncology
A case study is a research method involving an up-close, in-depth, and detailed examination of a concerned case (subject/topic), as well as its related contextual conditions. Case studies can be produced by a formal research method followed by an individual, organization, event, or action, existing in a specific time and place. Here we are inviting case studies based on any types of cancer or related incidents or events with facts and figures. Presenting your studies on any other type of cancer in this category will privilege you with a 30% discount on registration.
A biopsy is the main way doctors diagnose most types of cancer. Other tests can suggest that cancer is present, but only a biopsy can make a diagnosis. During a biopsy, a doctor removes a small amount of tissue to examine under a microscope.

Track-17: Immuno-Oncology
Cancer immunology is a stream of immunology that studies communications between the immune system and cancer cells (also called tumors or malignancies). It is a field of research that intent to discover cancer immunotherapies to treat and decelerate evolution of the disease. The human immune system mounts natural endogenous response to foreign cells. The gamut of genetics and epigenetics changes occurring in tumors provides diverse set of antigenic repertoire that host's immune system can exploit to distinguish tumour versus their normal healthy counterparts.
Track-18: Pharmaceutical Oncology
A multidisciplinary way to deal with redesign has been connected in a variety of settings in clinical oncology, especially among patients with stomach and colorectal malignancy. Cancer has one of the highest mortality rates of all diseases worldwide. As a pre-treatment prior to hematopoietic progenitor cell transplantation carried out as a part of treatment for all forms of blood cancer, this drug is contributing to patients as a necessary drug that ranks alongside radiation therapy. Hepatitis B antibody was disease counteractive action antibodies upheld Drug Administration (FDA). Disease treatment immunizations were likewise considered restorative antibodies.
Track-19: Neonatal & Pediatric Oncology
Pediatric Oncology is the term used to comprise all malignant conditions among neonates & children with cancer. The most common childhood cancers are, Neuroblastoma, Retinoblastoma, Wilms tumor and brain tumors, such as gliomas. Childhood cancers are very rare and may differ from adult cancers in the way they grow, spread, treated, and respond to treatment.
An oncolytic virus is a virus that preferentially infects and kills cancer cells. As the infected cancer cells are destroyed by oncolysis, they release new infectious virus particles or virions to help destroy the remaining tumor. Oncolytic viruses are thought not only to cause direct destruction of the tumor cells, but also to stimulate host anti-tumor immune system responses. The potential of viruses as anti-cancer agents was first realized in the early twentieth century, although coordinated research efforts did not begin until the 1960s. A number of viruses including adenovirus, reovirus, measles, herpes simplex, Newcastle disease virus, and vaccine have been clinically tested as oncolytic agents. Most current oncolytic viruses are engineered for tumor selectivity, although there are naturally occurring examples such as reovirus and the Seneca virus, resulting in clinical trials.
Oncogenomics is a sub-field of genomics that characterizes cancer-associated genes. It focuses on genomic, epigenomic and transcript alterations in cancer. Cancer is a genetic disease caused by accumulation of DNA mutations and epigenetic alterations leading to unrestrained cell proliferation and neoplasm formation.
Track-22: Oncology Nursing & Care
Oncology Nursing is a field including practice incorporates the jobs of direct guardian, instructor, specialist, head, and scientist. Oncology nursing care can defined as meeting the various needs of oncology patients during the time of their disease including appropriate screenings and other preventative practices, symptom management, care to retain as much normal functioning as possible, and supportive measures upon end of life. Cancer Summit 2019 will make another transformation in malignancy science and disease nursing field.
Cancer cells keep growing without control. Chemotherapy is drug therapy for cancer. It works by killing the cancer cells, stopping them from spreading, or slowing their growth. However, it can also harm healthy cells, which causes side effects. Cancer can be treated by surgery, chemotherapy, radiation therapy, hormonal therapy, targeted therapy and synthetic lethality.
Track-24: Nanotechnology In Oncology Treatment
Cancer nanotechnology is a branch of nanotechnology concerned with the application of both nanomaterial (such as nanoparticles for tumor imaging or drug delivery) and nanotechnology approaches (such as nanoparticle-based theranostics) to the diagnosis and treatment of cancer.
Track-25: Cancer Awareness, Life-Style & Nutrition
Many factors impact the development of cancer. Over the last 25 years, science has displayed that diet, body weight and physical activity —especially being overweight or obese—are leading risk factors for obtaining certain types of cancer. The main behavioral and environmental risk factors for cancer death in the world are related to diet and physical inactivity, use of addictive substances, sexual and reproductive health and exposure to air pollution and use of contaminated needles.
Track-26: Cancer: Complementary & Alternative Treatments
Complementary and alternative are terms used to describe many kinds of products, practices, and systems that are not part of mainstream medicine. You may hear them used to refer to methods to help relieve symptoms and improve quality of life during cancer treatment. We call these "complementary" because they are used along with your medical treatment.
Track-27: Advances In Cancer Research And Treatment
Instruments are designed to aid in the diagnosis, monitoring or treatment of medical conditions. Several new types of equipment are used in the treatment of cancer such as:
Linear Accelerator (LINAC) – It emits radiation of highly localised (X-rays) and it is useful in the treatment of cancer. The 6 MeV linear accelerator having the capability of surface electron allows treating cancer cells even under the subcutis layer overlying the cranium. The patient can also see his activity through the connected display unit.
Gamma Camera – It is used in the detection of cancer via gamma rays. Here tracers used are introduced into the patient's body intravenously, thus getting the image on the gamma camera as the tracer emits gamma rays which are detected by the gamma camera.
Radiography and Ultrasound – It is a non-invasive way of getting the image of the internal organs by ultrasound. It is a useful method for cancer patients for examining the abdomen for any enlargement of the lymph or masses.
Track-28: Current Research In Cancer
Leukemia, Lymphoma, Germ cell tumors and early stage solid tumors which were once incurable have become curable malignancies now. Immunotherapies have already proven efficient in leukemia, bladder cancer and various skin cancers. For the future, research is promising in the field of physical oncology. Survival of cancer has significantly improved over the past years due to improved screening, diagnostic methods and treatment options with targeted therapy. Large multi-centric Phase III randomized controlled clinical trials by the National Surgical Adjuvant Breast & Bowel Project (NSABP), Medical Research Council (MRC), and the European Organization for Research and Treatment of Cancer (EORTC) and National Cancer Institute (NCI) have contributed significantly to the improvement in survival.
Market Analysis
Cancer is one of the major problems across the globe and it is said to one of the reason in the increase of the death ratio in this century. As cancer is not a single disease, it is very wide range of diseases approx. 200 cancers related disease has been witnessed. As people monitored urbanization, inestimable treatments are now available against cancer i.e. chemotherapy, radiation therapy, surgery, hormonal therapy, certain therapies interconnected to biology comparable monoclonal antibody and immunotherapy. All variations of cancer involve in different kind of treatments originated on the kind of cancer, location, tumor grade, phase of cancer and even the state of the person as health wise. The mortality rate due to cancer can be condensed if the early detection of the disease is done so that it can be cured early. And different sort of advancements in various therapies is increasing due to the early detection, increase time duration of the treatments along with the effectiveness of it.
A committee is gathering for an enlightening and innovative conference on Oncologists Congress. This conference gives prospect for delegates from various Institutes, Universities with various Scientists, Researches, Industrialists in the field of cancer providing with various lectures, poster presentation, various workshops, along with varieties of programs for the participants of the conference across the globe. This is a platform in which every single person has chance to share his/her ideas in the particular topic or may be related and any idea can inspire the formation of any novel thing which could be beneficial for the human in different ways. We are inviting you in this conference, come and join us and spread key of knowledge to all. We look forward to meet you all in Baltimore, USA.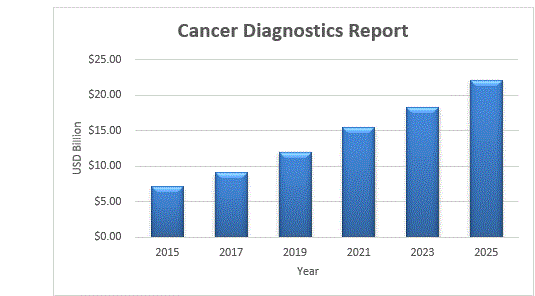 Market point of view
Due to extension in the treatment of cancer day by day, this contains various therapies which develop the rapid growth in the market, globally. The current analysis is reports of cancer diagnosis world wide of global market from 2015 to 2025 revenue. From the analysis, the market needed to reach at $ 22.10 billion by 2025 from $7.1 billion of 2015. From the global market of the cancer diagnostic, which able to bring change at fast rate by advancement in the techniques which relates the market? In 2017, the rate was $9.10 billion, and it should reach to $12.00 billion by 2019, by enlisting the compound yearly development rate (CAGR) of only 1.3 % since 2015-2019. And the increment of the market is relying on the increment of the revenue from $7.1 billion of 2015 to $ 22.10 billion of 2025 with the development rate of 5.5 %.
PAST CONFERENCE REPORT(Oncologists 2019)
We gratefully thank all our wonderful speakers, conference attendees, students, associations and exhibitors for making Oncologists Congress 2019 Conference the best ever!

The 16th World Oncologists Congress Meet hosted by the EuroScicon Ltd was held during December 09-10, 2019 (Webinar) based on the theme "Exploration of Building Blocks for Advancing Cancer Research".

The conference was initiated with the Honorable presence of the Keynote forum. The list includes: Franco Maria Buonaguro (Italy), Donna Vine(Canada), AlexFerenczy(Canada), Dr DancMartin(USA),Brain Keevil(Uk)

EuroScicon Ltd offers its heartfelt appreciation to esteemed organizations, obliged to the Organizing Committee Members, adepts of field, various outside experts, company representatives and other eminent personalities who supported the conference by facilitating the discussion forums. We also took privilege to felicitate the Organizing Committee Members, Editorial Board Members and Media Partners who supported this event.